The cable closures are so-called loop sleeves whose input and output are to be found on each side. The housing sections consist of break- and shock-resistant plastic material and are filled with an age-resistant, voltage-stable (up to 15 KV) and easily flowing material. The application of the c losures is quite simple – after the splice has been placed in the c losure , the gel that was obliquely filled into the sleeve halves is displaced towards the sleeve input or output when the c losure is joined, and it surrounds the entire splice in a secure and humidity-resistant manner.
The cable c losures from KM0 to KM3 can be both closed and opened again without any special tools and they must be also safely suspended or screwed with the fastening material enclosed in delivery.
The whereabouts in the ground are also free from problems, since both the housing and the filling material of these cable sets are ecofriendly and not subject to the dangerous material regulation.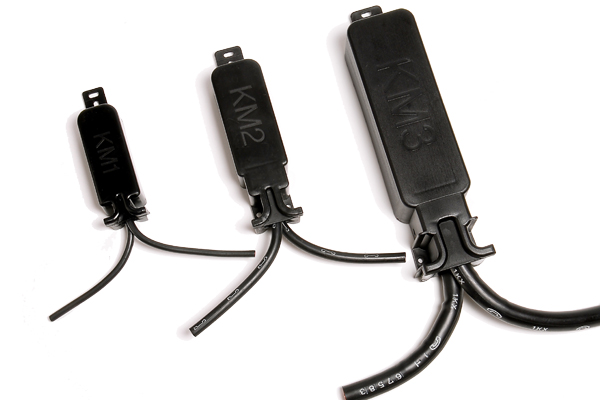 Versions
Version Cable diameter Double cores
KM1 up to 7mm approx. 5 DA
KM2 up to 9mm approx. 10 DA
KM3 up to 19mm approx. 70 DA
Optionally, we supply these sets also with individual core connectors of different versions (filled/unfilled, etc.) as well as with other accessories according to your wishes.
The cable closures from KM1 bis KM3 are

simple and easy installation